Budget Breakdown
Sample Budget Breakdown (non-actual, but loosely representative)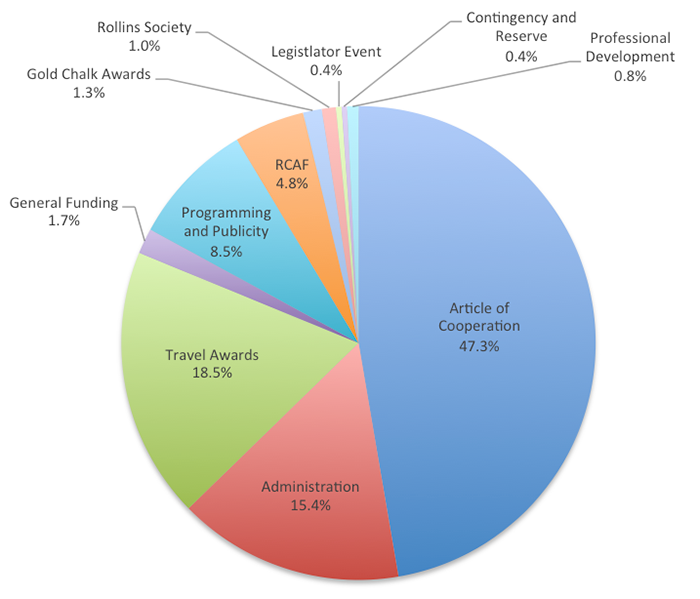 Articles of cooperation ($122,743, 47.3%)
Given to MSA, in order to involve all MU students in campus-wide activities; calculated based on number of graduate and professional students
Administration ($30,994, 15.41%)
Allows for GPC to employ officers, purchase necessary equipment and other office expenses, and to send delegates to major national leadership and legislative events in order to represent Mizzou graduate and professional student interests
GPC travel awards ($48,000, 18.5%)
Given to selected graduate and professional applicants that apply during one of three allocation periods throughout the academic year.
GPC general funding ($4,500, 1.73%)
Graduate and professional organizations may apply for general funding from GPC; this may be used for a number of events such as symposia, interdisciplinary events, or outreach
Prof/Grad programming and publicity ($22,000, 8.48%)
Pays for social activities tailored specifically for graduate and professional students; this includes a number of family friendly events
Research and creative activities forum ($12,500, 4.82%)
A venue for graduate and professional students at the University of Missouri to practice professional talks and compete for prizes without expensive plane tickets or hotel accomodations
Gold chalk awards (3,300, 1.27%)
This award is given to exemplary faculty that are nominated by a student whom they have mentored or worked closely with. Allows students to recognize those who made their degree possible.
Rollins Society ($2,500, 0.96%)
Rollins Society recognizes graduate and professional students who have significantly advanced the well-being of communities beyond the scope of their academic work
Legislator Event ($1,000, 0.39%)
This event is held each year to recognize and thank Missouri Senators and Representatives that have spoken for Missouri graduate and professional students.
Contingency and Reserve ($949, 0.37%)
Carry-over, serving as a small cushion for future budgeting
Professional Development Series ($2,000, 0.77%)
A new program- started only in 2012-13- designed to give graduate and professional students a venue to explore future directions and to develop job seeking skills.